Sons of Odin Hauling and Demolition, El Cerrito, California
We are a family run, locally owned business. We haul and dispose of all non-hazardous materials; from regular household trash, to dirt, concrete, and construction debris. We also do light demolition, including kitchens, bathrooms, fences, decks, and small sheds or garages. Give us a call today to discuss your project!
Established in 2006
After working for many years as a professional driver, I decided to combine this skill with my construction background into a small business that would allow me to drive trucks and work with my hands. I also wanted to start a business that my 3 sons could participate in at an early age, giving them the opportunity to learn how to start and run a small business. Since then we've been working to be the best hauling company in the Bay Area and we're very proud of how far we've come.
Family Owned and Operated
Thor started this business over 12 years ago and still oversees the operational side of things.  Rob, his long time friend, joined forces to help him grow and the team has been knocking things down and hauling it away since!  We're local boys and do everything we can to recycle and reuse.  We love being a part of this community and hope you'll give us a shot some time soon. Let us help your with your next hauling project!
---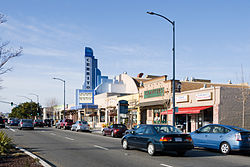 El Cerrito is a city in Contra Costa County, California, United States, and forms part of the San Francisco Bay Area. It has a population of 23,549 according to the 2010 census. El Cerrito was founded by refugees from the 1906 San Francisco earthquake. It was incorporated in 1917 as a village with 1,500 residents. As of the census in 2000, there were 23,171 people, 10,208 households and 5,971 families in the city. The top 20 employers in the city, according to the 2013 Comprehensive Annual Financial Report, include such entities as the West Contra Costa Unified School District, the City of El Cerrito, Lucky Stores, Pastime ACE Hardware, and Honda of El Cerrito.